Local Offer
The Coventry Local Offer can we found at Coventry local offer for school aged pupils
CASTLE WOOD SCHOOL
Our 'Local Offer' for Special Educational Needs and Disability (SEND)
Castle Wood's vision and ethos:
Together, children first…
Uniqueness –

we embrace and accept everyone is an individual with different needs, interests and styles and Castle Wood will effectively engage with the broad spectrum of need;

Collaboration –

we will all work together towards improving the life chances of all pupils and Castle Wood will engage with external organisations to ensure this;

Learning –

we know that every experience increases our knowledge and skills physically, intellectually, emotionally and socially and Castle Wood will lead the way in specialist education.
Together – At Castle Wood we recognise that a cohesive and consistent approach is needed - no-one can impact change on their own – the input of every role in school is needed to deliver a curriculum which meets the needs of everyone.
Children first… - the priority at Castle Wood is children. Their well-being, education and aspirations are the driver for every decision we make. Our curriculum is holistic, keeping the child at the centre.
Uniqueness – no two people have exactly the same experiences, feelings, likes or dislikes, so everyone has very different learning styles, methods of communication, beliefs, thoughts and influences. We acknowledge diversity – neurodevelopmental, cultural, social and religious. Our curriculum is inclusive acknowledging the uniqueness of every learner.
Collaboration – We believe we need to collaborate to extend learning. Collaboration encourages the asking of questions, listening and respecting opinions using a diverse range of communication methods bringing together a wide range of skills and knowledge. Our curriculum promotes a partnership of multiple individuals to accomplish a share goal.
Learning – deep and long-lasting learning involves understanding, relating ideas and making connections between prior and new knowledge, independent and critical thinking and the ability to transfer knowledge to new and different contexts. Some learning is immediate, induced by a single event but much skill and knowledge accumulates from repeated experiences. We believe that no child will be limited in striving to achieve their aspirations. Our curriculum is adapted to children's needs having bespoke learning opportunities tailored to learning needs in different contexts and environments underpinned by high expectations.

Castle Wood School is a maintained Broad Spectrum Special Primary School in Coventry, co-located with a mainstream school, situated in the north east of Coventry City, for pupils from 4 -11 with a range of learning difficulties from profound and multiple, severe to moderate and with varying degrees of autistic spectrum conditions .All pupils have a range of Special Educational Needs (SEN), and as such have a joint health, care and education plan or an educational statement or are moving through this statutory process. The school currently has 156 places.
The school offers a specialised learning environment with a range of extension rooms and areas to further support the SEN requirements of our pupils. The school has a hydrotherapy pool, sensory room, soft play room, hygiene suites, sensory room, (all aforementioned rooms are equipped with hoist access). As well as adapted play equipment, a range of outside learning spaces to enrich our curriculum offer, we have a forest school and sensory garden. The school also has 2 minibuses to support our learning outside the classroom curriculum as we regularly go on visits out into the community.

Castle Wood School:
Has a positive learning environment where pupils develop new skills and learn how to apply them in a concrete and meaningful way
Encourages, supports and challenges all pupils to achieve their full potential
Embraces individual needs and promotes their self esteem
Develops and supports pupils to be healthier and more able to understand their own personal difficulties and challenges
Provides a caring, safe and secure environment where pupils are taught to understand their own place in their wider community and to overcome their own physical difficulties to ensure personal, individual success
Promotes proactive working partnerships with parents, carers and external agencies and offers an integrated team working approach with NHS colleagues (Physiotheapy and Occupational Therapy, Speech and Language Therapy and Nursing), based at or operating from the school
Works in a multi-disciplinary way to attend to the holistic needs of our young people and to support our pupils' families
Teaches pupils to communicate effectively and to be independent and be able to make good choices
Utilises the learning outside the classroom (LOtC) to enhance the learning curriculum and to support pupils to practice and extend their social skills
Ensures we have a range of visiting artists: musicians, story tellers, dance specialists who provide exciting workshops for our pupils throughout the school year.
Our school has a large and welcoming early years area
Develops pupils self esteem, confidence and independence in preparation for their challenges ahead in the next stage of their school life
All classes are fully inclusive and are determined by pupil's individual level of need and circumstances. We have high levels of expectations for all our pupils and we aim to fully extend their academic and social development. High levels of staffing and individualised learning programmes ensure both the learning and social needs of each child are met within their class.
Throughout their time at Castle Wood School, pupils may receive varying levels of support according to their changing needs and circumstances. The information in the table below is a guide to the 'typical' levels of provision as such levels of support and provision will vary across time for individual pupils in response to their individual needs.
We have links with local mainstream schools for shared learning experiences and our co located mainstream where it has been identified that pupils would benefit from such an opportunity.
Whole School Approach
Universal School approach to all our pupils

Targeted support for individuals or small groups (according to need) - short / medium term

Specialised individual support (according to need) medium / longer term

Learning and curriculum approaches

• Detailed planning for all subjects with differentiated outcomes for every pupil
• Termly parent / school consultation- Learning Conversations specifying focus for learning and next steps
• Education, Health and social care plan (formerly Annual Review) / School Report
• Ongoing contact with parents through class dojo/Telephone contact, meetings
• Ongoing assessment of pupil's progress and attainment

• Analysis of Progression data
• Detailed multi-agency risk assessments reviewed termly
• Schemes of work to meet the needs of all learners
• Differentiated learning outcomes for each pupil for every lesson
• Use of appropriate switch technology ,Makaton, symbols/Object of references etc



Targets in all core subjects – reviewed termly in pupil progress meetings
• 'Bespoke' termly meetings with parents regarding specific issues
• Additional information shared on pupils at whole school meetings
• Opportunity for individual learning programmes and the ability to work across other classes or group settings in response to need
• Daily contact with parents (as requested)

• Ongoing review of targets through pupil progress plans
• Daily contact with parents
• Support from specialist professionals
• Multi agency meetings to review areas of difficulty and levels of support
• Different timetable and activities
• Individualised learning programme and learning day to meet holistic SEN requirements utilising a range of specialised environments

Whole School Approach
Universal School approach to all our pupil

Targeted support for individuals or small groups (according to need) - short / medium term

Specialised individual support (according to need) medium / longer term

Support

• Small class groups
• Special Education Support Assistants
• Support staff to meet personal and social needs
• Multi agency support
• Weekly class team meetings to review pupil progress, IEP's, share information etc
• Weekly whole school meetings to share information and develop staff expertise
• Programmes and guidance provided by Speech and Language therapists, Occupational therapist and Physiotherapist and integrated within the class timetable to support and facilitate access to the curriculum
• On site daily support and monitoring from the schools Nursing team for pupils with complex medical needs

• Enhanced staff support during lessons and class activities
• Increased levels of multi-agency support
• Support/guidance from Educational Psychologists (as required)
• Support/advice from internal behaviour manager
• Programmes and group sessions occasionally led but always monitored by Speech and Language therapists, Occupational therapist and Physiotherapist

• 1:1-1:2-3 support across the day
• Rotation of class staff across the day
• Regular multi-agency support and meetings,
• Support from Educational Psychologists

Support from Social Care
• Additional advice from medical services, Community Learning Disabilities Team, Health care teams etc
• Specific Health and therapy programmes delivered directly by either Speech and Language Therapists, Occupational Therapists or Physiotherapists or integrated into the classroom

Whole School Approach
Universal School approach to all our pupil

Targeted support for individuals or small groups (according to need) - short / medium term

Specialised individual support (according to need) medium / longer term

Teaching approaches

• 1:1 teaching on a regular basis
• 1:2 teaching on a daily basis
• Small group teaching for all lessons
• Groups changed to reflect pupils' learning needs for each lesson
• Structured environment within each class
• Consistent routines and systems across the whole school
• Full appreciation and provision of access requirements for all pupils

• Support provided for less structured activities
• Additional visual clues and guidance
• Support provided to meet personal and social needs
• Individual behaviour systems, rewards and motivators

• Pupil taught on individual basis or 1:2 , small group according to need
• Teaching at times can be in separate rooms/areas of school
• Specified/Identified time with class peers
• Individual access to facilities at shared times i.e. playtimes
• Priority access to identified resources such as soft play room /sensory room/hydro' etc

Whole School Approach
Universal School approach to all our pupil

Targeted support for individuals or small groups (according to need) - short / medium term

Specialised individual support (according to need) medium / longer term

Physical and emotional support

• Well lit and well resourced environment
• Visually clear classrooms
• Access to specialist areas such as soft play, sensory room, hydrotherapy pool
• Stimulating external play areas

• Specialist equipment such as overhead hoists, specialist seating, standing frames provided through the school, on the advice from therapists and health colleagues
• Specialist communication aids
• Hydrotherapy sessions
• Emotional literacy support – internal and external and emotional regulation

• Designated teaching areas for identified pupils
• Dedicated resources matched to pupils behavioural, social and learning needs with individual motivators and rewards

Whole School Approach
Universal School approach to all our pupil

Targeted support for individuals or small groups (according to need) - short / medium term

Specialised individual support (according to need) medium / longer term

Health, Mental Health and Well being

• Positive learning environment with excellent staff role models
• Focus on developing confidence and self esteem
• Spiritual, Moral, Social and cultural focus
• Full time nursing team on site to monitor the health of pupils with complex needs and access to mainstream nursing team as appropriate
• Care enablers delivering physical, care and communication support for students with complex medical needs .
• Medical appointments and Annual medical reviews carried out by visiting medical staff onsite where possible

• Increased time allocated to emotional development and understanding
• Focus on developing shared attention skills
• Specific medical routines and programmes fully implemented seamlessly throughout school day

• Emotional development and well being becomes main focus
• Increased joint working between parents, school and multi agencies
• Individual health protocols and programmes drawn up termly and reviewed by multi-disciplinary team
NB Please note the school has an on-site Nursing Team for pupils with complex medical needs and visiting Physiotherapy, Occupational Therapy Team and Speech and Language Therapists in the school. Whist the Headteacher and school does not determine the level of health and clinical support for our pupils, the multi-agency approach to our work does have major benefits for whole school approaches to the development of our pupils' holistic needs.
1. How does Castle Wood know if pupils need extra help and what should I do if I think my child may have special educational needs
Statement of Special Educational Needs or an Education, Health and Care Plan which describe their individual areas of special needs and inform his/her individual education plan; some pupils have a place of assessment.
As all classes have high staffing ratios, each teacher is able to quickly identify any requirements for additional support on an ongoing basis throughout the year and will discuss these with senior managers and parents. The class teacher is the first point of contact for parents who think their child has developed additional needs and so may require alternative support
A formal review is held once a year to discuss your child's progress, their current areas of special needs and to agree at least one target for each area of need. Any additional needs are discussed as part of the review.
2. How will Castle Wood School staff support my child?
The class teacher plans for all the pupils in his/her class and is responsible for the overall assessment of their progress. Pupils are taught as a whole class, in small groups and/or 1:1 by both the class teacher and the special school assistants. We believe it is important for pupils to develop relationships with a number of adults at Castle Wood and ensure all staff understands a pupil's special educational needs.
The school governors are ultimately responsible for the progress and attainment of all the pupils although they delegate this responsibility to the Headteacher. They receive collated and anonymised data about the progress of groups of pupils and hold the head to account for how good this is, in comparison to nationally similar groups of pupils.
3. How will the curriculum be matched to my child's needs?
CURRICULUM FRAMEWORK AT CASTLE WOOD SCHOOL
The boundaries between curriculum pathways are deliberately porous so that no pupil is held back or pressured to move on before they are equipped to do so. Leaders and teachers at Castle Wood make principled decisions based on a range of quantitative and qualitative assessments of children's learning to inform progression movement between pathways. The fluid nature of the curriculum boundaries enables tracking back and forwards as appropriate. Each pathway covers skills, knowledge and understanding across the range of areas of learning.
Roots Pathway
Pupils following the Roots Curriculum Pathway are working consistently at very early levels of development and have complex communication, sensory and motor difficulties. Primarily they will be pupils with Profound and Multiple Learning Difficulties. They are at a pre-subject specific level require significant adult support to engage their own emotional and physical well-being and to access learning.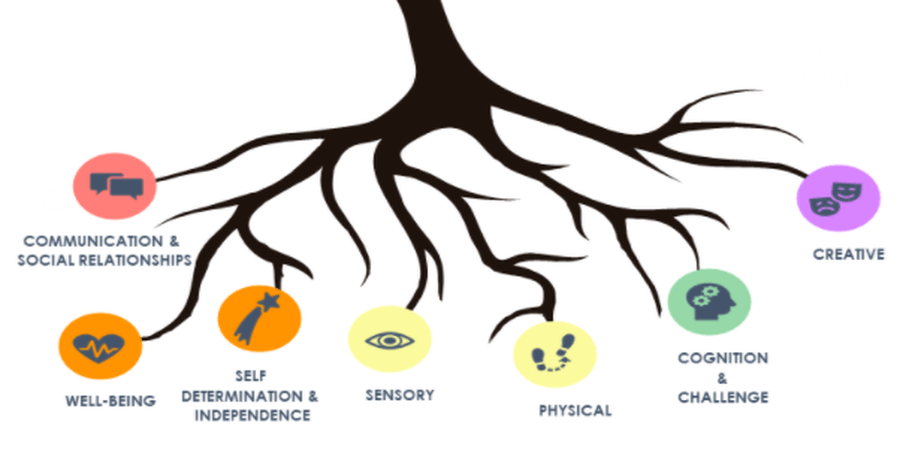 Foundations Pathway
Pupils following our Foundations Curriculum Pathway are usually our Early Years pupils who have a statutory right to follow the EYFS and pupils in KS1 who would benefit from consolidation of the skills and knowledge of the EYFS will also follow this pathway, enhanced according to subject specific spikes with the Core Curriculum Pathway.

Core Pathway
Pupils following our Core Curriculum Pathway may have some severe communication and cognitive difficulties but are able to access some aspects of a subject specific levels when it is related to their own experience and connected to areas where they have expertise. They require regular support to manage their own emotional and physical well-being. Some may learn through structured play; others will learn more effectively through functional activities, and yet others will respond well to a topic-based approach.
Discovery Pathway
Pupils following our Discovery Curriculum Pathway are working more consistently at a subject specific level. They have greater independence and are more able to apply strategies to manage their own emotional and physical well-being.
The school is divided into Early Years Foundation Stage (EYFS), KS1 and KS2. However the EYFS play-based framework is not confined to children under the age of 5, but. extends right across the school where children are functioning at a level below National Curriculum.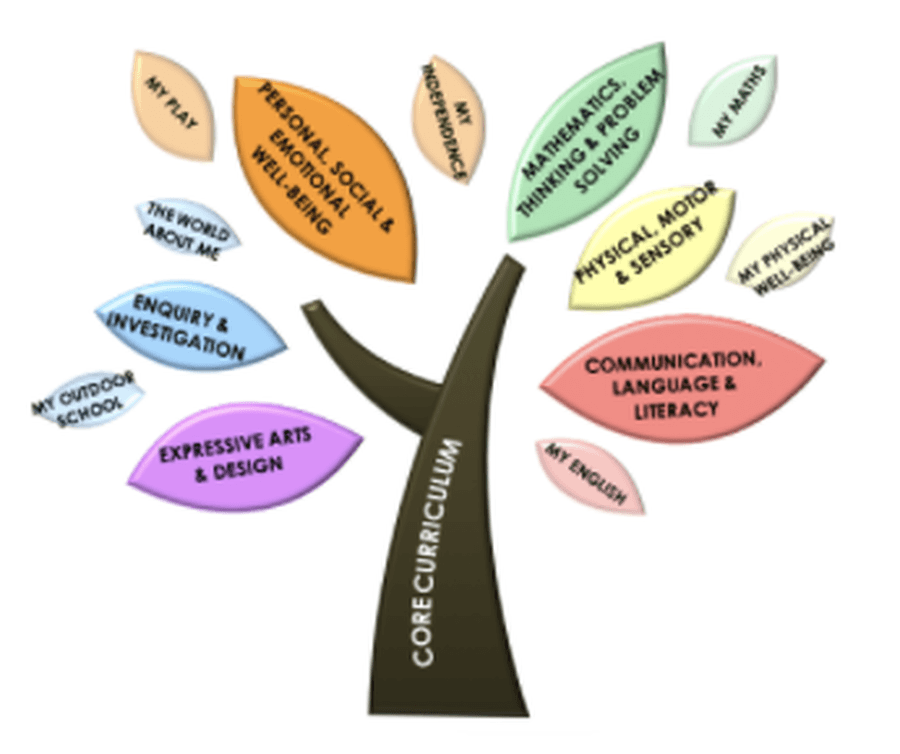 Every child has a personalised learning programme which includes differentiated (individualised) learning outcomes for every subject and individual expectations.
Access to the curriculum is important to ensure we get right for pupils with Physical Difficulties and the school benefits from specialist expertise for adapted technology and software programmes and the 'commissioned' use of communication aids and low tech' communication systems (where necessary) and integrated therapy advice and support to facilitate access to the curriculum
Our pupils make progress in many ways not only through academic progress. We teach in a holistic approach with life skills throughout to help a child learn as part of a group as well as an individual. Pupils also have the opportunity to generalise and transfer such skills to other settings in the school and particularly learning outside the classroom
4. How will Castle Wood School staff support my child?
The class teacher plans for all the pupils in his/her class and is responsible for the overall assessment of their progress. Pupils are taught as a whole class, in small groups and/or 1:1 by both the class teacher and the special school assistants.
We believe it is important for pupils to develop relationships with a number of adults and so we do not allocate specific assistants to work with identified pupils, although key working is a feature of the school. All pupils work with every adult in their class team.
5. How will I know how my child is doing and how will you help me to support my child's learning?
Copies of each child's individualised learning targets pupil progress reports are discussed once every term and there is an opportunity to discuss progress at pupil progress days each term, although if dates are not appropriate, an alternative time can be found to communicate with parents

Assessments of your child's progress are made regularly so the class team always knows what each child in his/her class has achieved and what needs to be further developed. The class teacher and the teaching assistant also regularly meet to discuss such progress
As nearly all our pupils have complex learning difficulties as well as associated SEND; it is to be expected that they will be working outside their age related key stage levels as they progress through the school.

Pupils do have varying levels of homework as they progress through the school which parents are asked to support.
6. What support will there be for my child's overall well being?
Pupils' wellbeing and emotional health is as important as their academic progress. Class teachers plan for the holistic development of each child in his/her class, using their detailed knowledge of each individual to promote their confidence and self esteem. The high staffing levels enable class teams to allocate additional time as required to support the emotional wellbeing of individual pupils.

Individual behaviour support plans and expectations are also used should there be additional need. When a child's behaviour becomes challenging, teachers are supported by the leadership team and support agencies, in understanding the function of behaviour and agreeing with parents as to how best to manage it in a positive and proactive way.

Our First Aiders support individual medical needs and staff are trained, where required in the emergency administration of medicine. All personal care needs are met by each class team and staff are trained in manual handling procedures by the schools lead in this area. We pride ourselves on how we maintain the dignity of this important aspect of a child's health and care needs.
7. What specialist services and expertise are available at or accessed by Castle Wood School?
The Leadership team, teachers and support staff are highly skilled in meeting the individual learning, behavioural and social needs of pupils with complex learning difficulties.
The school accesses a range of specialist services via the Children's Community Learning Disability Team headed by a Psychiatrist including clinical psychology, social care (Children's Disability Team) and health service professionals. The School Psychology Service also provides ongoing advice and support.
Speech and Language Therapists (SALT), Occupational Therapist(OT) and Physiotherapy colleagues and a school nursing team work within the school and outline individual programmes for the education team to deliver or work specifically on clinic work for each child. This allocation of therapy support falls under criteria set down by the NHS and is very much needs led.

In additional to school based Health and Therapy support the school benefits from clinics within and during school time so that pupils education is not unduly compromised and that parents can feel more part of the multi-disciplinary approach to their child's overall needs. Such clinics include:
• Orthotic Clinics
• Feeding and swallowing Clinics
• Wheelchair Clinics
• Orthopaedic Community Paediatric Consultant Clinics
• Medical appointments and annual review medicals carried out by visiting medical professionals
As well as ongoing mandatory assessments such as hearing, vision, dental and annual review assessments.
Our Learning Mentor supports parents also through the Early Help process, to access other services and she also provides support for children's emotional wellbeing through direct work with individuals or small groups.

8. What training have the staff at Castle Wood had or are having?
All staff, both teachers and support receive comprehensive and ongoing training in meeting the needs of pupils with complex learning difficulties. An induction programme is followed by a mentoring programme during which teachers observe and review lessons taught within Castle Wood to further develop their own skills.
In additional to more specialist curriculum training depending upon area of interest/expertise all staff receive annual Safeguarding and where appropriate ,Manual Handling and Fire/Risk assessment training. Many staff are trained in Makaton, First Aid, Epilepsy, AAC, Behavioural Management, Food Hygiene, Educational Visits Off site and adventurous activities

9. How will my child be included in activities outside the classroom including school trips?
As a fully inclusive school, all pupils participate in whole school, curriculum and off site activities. The extent to which each child participates and the levels of support received will vary between pupils and across time but we differentiate the activities and expectations to enable all pupils to take part.
Parents are asked to give generic permission for their child to participate in activities in support of the curriculum i.e. a visit to a local church, shop etc. All pupils will be risk assessed. Visits which last for a whole day or are further afield, involve more comprehensive risk assessments and information.
10. How accessible is the school environment?
As a purpose built special school, Castle Wood is fully accessible. The building is light, classrooms are large and the site is both safe and secure.
Where required interpreters enable parents to fully participate in formal meetings such as Annual Reviews and Health meetings
11. How will Castle Wood School prepare and support my child to join the school and then transfer to secondary school?
Once a place at Castle Wood has been confirmed, parents will be invited to meet the class teacher often at their child's current early years or school setting and often in the child's family home. The class teacher will meet with the staff, spend some time observing your child and also meet with you to gain detailed information. Following this visit your child will be invited to spend some time within a class at Castle Wood although depending on the point of entry and your child's needs, this will vary. The number of times your child will visit varies but generally we have found a shorter transition to be most successful.
Each parent is different but due to the fact that many of our pupils start at 4 years old we normally suggest the parents may wish to join us in school for the first few days to be around should they be worried or anxious. As soon as transition is deemed to be successful, school transport is set up.
At the end of year 6, pupils transfer to secondary schools, either a special or mainstream school depending on the preference of parents and needs of the pupil. A careful transition plan over many months is implemented to ensure the transition from our setting to a different one is as smooth as possible.
12. How are Castle Wood's resources allocated and matched to pupils' special educational needs?
Each child receives support matched to their own level of Special Educational Need.
This will vary across each day and throughout their time in our school, as the level of support is directly related to their needs and circumstances.
13. How is the decision made about what type and how much support my child will receive?
On a daily basis, the class teacher determines the level of support for individual pupils from within the class team.
When pupils whose SEN circumstances, Health requirements or complex learning needs indicate that additional support maybe required, discussions are held between the class teacher and senior leaders to determine what this might be. Typically, this support continues to be provided from within the class team, but may be targeted at specific times, i.e. break times, circle times etc.
If the evidence suggests that even higher levels of support maybe beneficial, this is agreed by the Leadership Team as the resource is provided from within the school. Due to the high levels of staffing in each class this is not required very often and only in very extreme situations, would additional support be requested from Continuing Care (National Health Service) or SEND for funding for more adult support.
Parents are generally aware of the need for additional support and a joint programme of intervention is planned. Due to the cost, clear measures of success are highlighted so it is possible to identify if the intervention has been successful and if it needs to continue. If so, the support is reviewed on an ongoing basis.


14. Who can I contact for further information?
The first point of contact for anything relating to your child's education is the class teacher. We encourage parents not to wait for the next formal opportunity to meet but to contact us on an ongoing basis. Staff are always available to talk outside of teaching hours or an appointment can be made for a mutually convenient time. Please either telephone or write in the Home School Diary.
Considering a special school for your child can be a very daunting time and we have parents and Parent Governors who are happy to talk with prospective parents to share their experience and answer questions about Castle Wood from their perspective.
15. What should you do if you feel that the Local Offer is not being delivered or is not meeting your child's needs?
Parents who believe their child's needs are not being met within school are asked to meet with the Headteacher to talk through their concerns.
Where appropriate an early Annual Review can be arranged, with representation from the SEND team to formally review your child's progress, current special needs and provision.
16. How is our local offer reviewed?
Our local offer was developed in consultation with staff, Governors and parents and will be reviewed by Governors on an annual basis, as from September 2014.
Rebekah Hayes
Headteacher
Please contact us on:
02476 709060
Website info: Coventry Local Offer